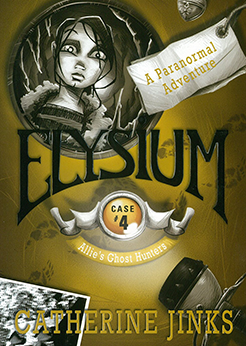 Allen & Unwin, 2007
Case 4 in the 'Allie's Ghost Hunters' series
Available from
Allen & Unwin
Amazon
iTunes Audiobook
Other Books in the 
'Allie's Ghost Hunters' series
Eglantine| Eustace | Eloise
The fourth 'Allie's Ghost Hunters' adventure, this funny, exciting story sees young Allie joining her friends and family for a weekend 'ghost tour' in the beautiful Jenolan Caves – where they encounter, not only a haunted hotel
and a lot of emotional upsets, but something vicious, mysterious, and
very, very smelly . . .
'Elysium is an entertaining read, as much social observation as paranormal investigation. It is an engaging story . . . and an asset to public and school library collections.'
Magpies
'Full of suspense, mystery and humour. This is both clever and creepy.'
Bendigo Advertiser
'The book . . . is full of suspenseful moments that make it a lot of fun to read. It's a great book for ages 11 and over because it's a paranormal
adventure . . .'
Illawarra Mercury