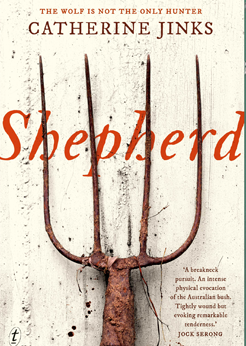 Text Publishing, 2019
Available from
Apple Books
Amazon
Tom Clay was a poacher back in Suffolk. He was twelve when he was caught, tried and transported to New South Wales.
Now, assigned to a shepherd's hut out west, he is a boy among violent men. He keeps his counsel and watches over the sheep; he steers clear of blowhards like the new man, Rowdy Cavanagh. He is alert to danger, knowing he is a foreigner here – that the land resists his understanding.
The question is: how fast can he learn? Because a vicious killer named Dan Carver is coming for Tom and Rowdy. And if Tom can't outwit Carver in the bush – and convince Rowdy to keep his stupid mouth shut – their deaths will be swift and cruel.
'Jinks's cracking, sharply etched adventure story doesn't turn a blind eye to history, and weaves tender moments into the action and suspense. It's superior fiction any writer might enjoy reading, simply to admire the craft.'
The Sydney Morning Herald/The Age (PICK OF THE WEEK)
'A gripping historical yarn.'
Sunday Mirror (UK)
'Multiple award-winner Jinks (Evil Genius) … crafts a breathtaking pursuit novel full of brutality and tenderness.'
Shelf Awareness
'Jinks … paints a riveting picture.'
Listener, NZ
'… a highly readable, richly characterised, beautifully written novel.'
Australian Book Review
'The relentless pace of this novel means readers, too, must keep one eye on the book and the other looking over their shoulder.'
The Sun-Herald
'A great, fast-paced hunt … A compelling picture of the time and the place …'
Otago Daily Times
'Breathtaking in its intensity … This is an utterly magnificent read – its power and intensity will continue to resonate with you after you have turned the last page.'
greatescapebooks.com.au
'This riveting, fast-paced new novel … brings the brutality and courage of Australia's colonial frontier vividly to life. If you like outback horror, this one's for you.'
pageandblackmore.co.nz
'This novel covers only a few short days and hurtles along at breakneck speed – a thrilling, edge-of-your-seat addition to Australian outback colonial fiction.'
readings.com.au