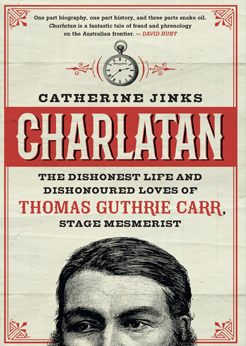 Random House, 2017
Available from
Angus & Robertson
Dymocks
iTunes
Amazon
Thomas Guthrie Carr was charged by Eliza Gray with mesmerising her and raping her while she was under his influence. But if mesmerism and Mr Carr were shams, was Eliza really raped?
With a driving narrative and novelistic pacing, this scrupulously researched account of the life of Thomas Guthrie Carr, stage mesmerist – who lied, fought and sleazed his way around Australia and New Zealand between 1865 and 1886 – is more than just a fascinating piece of social history. It's also a mystery, a true crime story and a slyly humorous portrait of a man whose ferocious pursuit of fame and fortune made him an oddly contemporary figure.
With a  supporting cast that includes the Duke of Edinburgh, the Mad Dentist of Wynyard, the Nunawading Messiah and a host of shady mesmerists, spiritualists, phrenologists and hired goons, Charlatan delves deeply into a forgotten side of colonial history.
'Catherine Jinks has struck gold tracing the story of this larger-than-life figure who has rated barely a footnote in Australian colonial history. Zesty, well-researched and highly readable, Charlatan … is an engaging portrait of the consummate, archetypal Victorian showman … Jinks deftly weaves her biography around his legal drama and its aftermath, giving the book a strong narrative thread and an opportunity to examine the arcane moral standards of the time.'
The Australian
'… [a] rollicking, lively and entertaining study …'
The Sydney Morning Herald
'Jinks's always engaging, fast-moving narrative … [is] sprinkled with humour, scandal and nuggets of history … The portrait is of an era, not just of a man …'
Sisters In Crime
'[An] excellent piece of historical detective work … very well written
and constantly interesting.'
victorianfootnotes.net