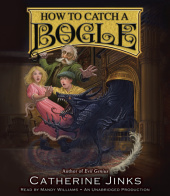 The audiobook of 'How to Catch a Bogle', narrated by Mandy Williams, has been shortlisted for an Audie Award by the Audio Publisher's Association (APA) in the United States. 'How to Catch a Bogle' is a finalist in the 'Children's Titles for Ages 8-12′ category. The winners will be announced on May the 28th.
The complete list of nominees can be found at the APA website.
Mandy Williams also won 'Best Female Voice' in the 'Children's (ages 6 to 12)' category of the Voice Arts Award, last November.
Audiobook editions of several of my books, including 'How to Catch a Bogle' and 'A Plague of Bogles', are available at Random House's website. The link includes audio excerpts, so you can get a sample of Mandy's brilliant work reading both Bogle books.